Exhibit Management
Denver court reporters can make litigation more successful by providing well-planned exhibit management.  When your exhibits are handled correctly from the outset of litigation, it speeds case preparation, maximizes efficiency, and reduces costs.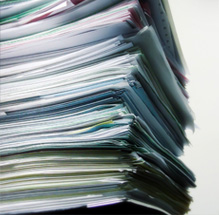 Services
The effective management of your exhibits is crucial to successful litigation. We preserve all of your exhibit options because we handle so many kinds of documents and because we know what litigation requires, including:
Scanning: We scan all marked exhibits to PDF for digital delivery and archiving
Online access: All of your exhibits are filed online with the transcripts in our

Online Repository

. Access your exhibits anywhere in the country, anytime.
Exhibit Linking: We link your exhibits to your transcripts in

LiveNote

, Summation and other popular document management software.
Exhibit Management: For case managed cases, we bookmark all exhibits for ease of viewing and review.
Formatting: Whatever your document management needs, we can provide optimal formatting, including load files for today's most common document management software.
Exhibit Scanning
At

Rocky Mountain Reporting

, every exhibit, whether it is large or small, black or white, letter or legal, are scanned with our high-speed scanners to PDF. Because you never know when you will need an exhibit, we do this on every job, whether you ordered a copy of the exhibits or not. Once scanned, your documents are kept on a secure server.   They can be burned to disk or converted to searchable PDF at your request.  Finally, your scanned exhibits can also be posted to our online repository.
Exhibit Notebooking
It is crucial for you to have every exhibit at your fingertips for every deposition. Original documents are placed in durable, high-quality binders. Your exhibits are separated with sequential index tabs.  If necessary, we can also make custom tabs.  We prepare every exhibit notebook comes with an index list that is taken from each transcript, and updated when a new deposition is taken. Finally, if necessary, we will handle the delivery of your notebooks to the deposition location.
Online Repository
Your documents are available 24 hours a day, 7 days a week, from any location with Internet access! Rocky Mountain Reporting is always bringing you the latest in innovative technology. With our online repository, our clients are able to access transcripts, exhibits, and invoices 24 hours a day, 7 days a week, from any location with Internet access.
Contact Us
Let our case management specialists help you control your next complex case exhibit archive.  Call us at (720) 872-9910 or

click here to contact us

for exhibit management services.